ZOEY
Sometimes in our lives (it happens to all of us) we are put in a position, following multiple coincidences, that place us in a certain place at a certain time, so that before us is some small but significant deed for us to handle, in my case, some creature in desperate need.  Those two dogs in my article "Rescue" that my friend and I saved were two of them.
After suffering through my beautiful, beloved Harvey's death by veterinarians, which is the hardest thing I have ever had to go through, I wanted nothing more to do with veterinarians.  I planned on having no new pets ever again in my life.  
Veterinarians are completely avoidable if you have no pets.
But through another set of multiple coincidences, I found abandoned on the side of a road with her eyes gouged out, multiple sores, her lips cut back and a scar around her neck, a starving, suffering little dog.  The sheriff's dispatcher I phoned told me if they picked her up, she was going to the shelter where she would be euthanized.  I drove her to the nearest veterinarian where she had successful surgery.  She has since had heartworm treatment and is now recovering with the excellent care of my new veterinarians.  I named this little blind dog Zoey, which means life, in memory of a dog named Zoey killed by a callous veterinarian whose story is told in a book by her heartbroken caregiver (Nina Rosen) called Unbearable Loss.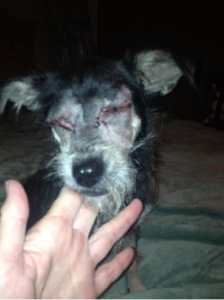 Harvey is my unbearable loss, and a senseless loss, and tragically just one of the thousands of victims of bad veterinarians who should not be licensed to practice.  People in other states face the same problems with sham veterinary oversight boards and dangerously incompetent veterinarians who remain licensed.  Zoey's story shows the need for competent veterinarians who can be trusted with our pets, those who will do everything humanly possible to ensure our pets will survive their surgery or illness or injury and get well again and come home to us.  We need to trust they won't be tortured to death as Harvey was, or given ridiculous amounts of anesthesia and never wake up from a teeth cleaning or a spay, or die from complications of dangerous vaccinations they didn't need to begin with, or burned to death by a heating pad, or suffer through multiple unnecessary procedures just for money and die, breaking our hearts forever.  These bad veterinarians are still out there.
Please support all efforts to make veterinary oversight boards fair. There must be a reasonable way to revoke the licenses of unqualified and dangerously incompetent veterinarians.  The veterinarians who intentionally tortured my horse, Harvey, to death are all still practicing.  As always, for Harvey, whom I miss with every breath I take.
Special thanks to Second Chances for Blind Dogs who donated a halo for Zoey so she could move safely and confidently through her blind world.
Comments to TBVME Board in February 2017
House Bill 2967 Testimony in April 2017